Research
The MERLOT CLIVE portal community recognizes exemplary cases, projects and initiatives focused on using 3D Virtual Worlds resources to enhance teaching and learning that are happening across the globe and in various virtual worlds. Here the spotlight is on the achievements and activities of CLIVE faculty and staff that are advancing the field of teaching using 3D Virtual Worlds resources.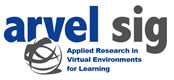 Through it's partnership with the new American Educational Research Association Special Interest Group called, "Applied Research in Virtual Environments for Learning", CLIVE is positioned to stay abreast of emerging research on teaching and learning in digital immersive environments.
The SaLamander Project
the Center for Advanced Technology in Education (CATE) at the University of Oregon has been conducting a "proof of concept" grant through the NorthWest Academic Computing Consortium to identify learning materials available in the virtual world of Second Life (SL). With partners Sloog and MERLOT, the project features a Heads Up Display that faculty use within SL to describe learning materials - where selected nominations are placed within the SaLamander Wiki Here, experts further describe and vet the materials through discussion and ratings - where the best will find their way here, to CLIVE in the MERLOT database. The SaLamander Project was featured in the EduCAUSE ELI / New Media Consortium's "On the Horizon Report" as the exemplar of an educational "mashup" for the 2008 report.
top of page